Ebb Tides and Other Tales
Dark Regions; First Edition edition (September 2, 2002)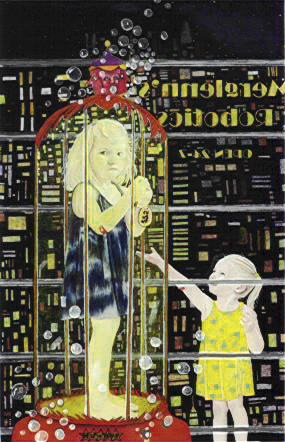 Mary Soon Lee's Ebb Tides and Other Tales brings together twenty of her science fiction stories, including reprints from the pages of Fantasy and Science Fiction, Interzone, and Amazing Stories.
The cover art, shown to the left, is "Merglenn's Robotics" by AB Word, Copyright 2002.
Ordering
"Ebb Tides and Other Tales" may be ordered online from Amazon.
"Mary Soon Lee gives us a powerful collection of tales about technology, usually gone awry, occasionally –with amusing results– gone sideways. These are stories about the clash between advanced processes and our best instincts. She leaves us with the conviction that our basic decency will hang on. If only by its fingertips." — Jack McDevitt
"Welcome to Mary Soon Lee's world, where the houseplants gossip, your blender can fall in love, and aliens speak in perfect Swahili. Mary writes science fiction in the soft tradition, focused on human emotions and the conflicts of people forced to deal with a world that is not the one they would choose to live in: stories, that is, about real human beings." — Geoffrey A. Landis
"Lee has clearly mastered the art of the short story. Some of these tales are only a few pages long, but all have a crystal-clear central concept, robust characters, effortlessly natural dialogue, and a clever twist or hook at the end. So go ahead; open Pandora's box! Me, I'm looking for her earlier anthology, Winter Shadows and Other Tales, and eagerly awaiting her next collection." — E.J. McClure, SFRevu, October 2002 ( Read the complete review from SFRevu.)