How to Navigate Our Universe
(September 2023)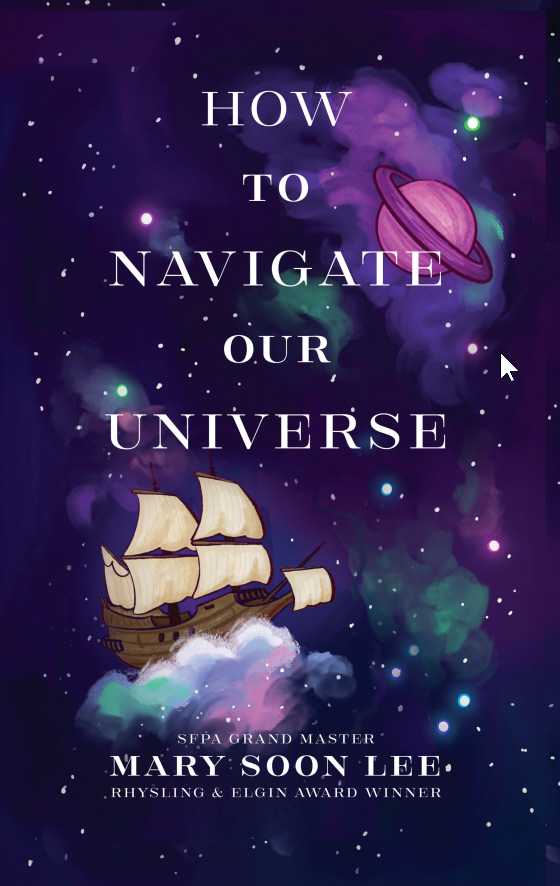 How to Be a Star
Gravitationally collapse a nebula.
Fuse hydrogen into helium.
If desired, explode.
How to Navigate Our Universe is a collection of 128 astronomy poems, ranging from whimsical to serious — poems about planets, stars, black holes, and astronomers, complete with essential advice such as How to Surprise Saturn, How to Blush Like Betelgeuse, and How to Survive a Black Hole.
"Unraveling meaning from partial glimpses of the universe has preoccupied astronomers for thousands of years. Mary Soon Lee's remarkable collection of poetry traces this journey, capturing the wonder of the celestial bodies that comprise our universe, the elegance of the rules that guide its evolution and the humanity of those who search to better our understanding."
– Andy Connolly, Professor of Astronomy, University of Washington
"There are poems that think deeply. There are poems that feel deeply. Here are entire constellations of poems managing to do both at once, accessibly and with a subtle music which seems far more effortless than I suspect it is. Ranging from witty to elegantly serious, apolitical to frankly feminist, this collection celebrates astronomy and space exploration — but never limits itself to those topics. Instead, it expands with its own dark energy, inviting the reader to consider how our views of the universe affect our own humanity."
– Ann K. Schwader, SFPA Grand Master
Mary Soon Lee is a Grand Master of the Science Fiction & Fantasy Poetry Association, and has won the Rhysling Award, the Elgin Award, and the AnLab Readers' Award. Her work has appeared in Science, American Scholar, Spillway, Asimov's Science Fiction, and Strange Horizons. This is her second collection of science poetry, following on from Elemental Haiku. Born and raised in London, she now lives in Pittsburgh.
---
Ordering information (ISBN 979-8-9885922-1-1)