Winter Shadows and Other Tales
Dark Regions Press, First Edition edition (October 2001)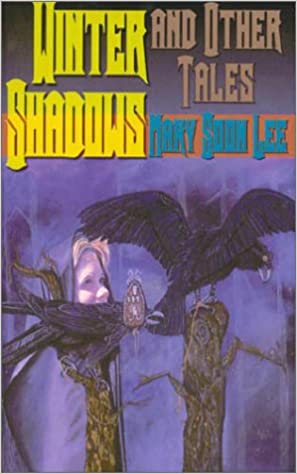 Mary Soon Lee's first book, Winter Shadows and Other Tales, was published by Dark Regions Press, and contains twenty fantasy and horror stories.
The cover art for the book, shown to the left, is "Merglenn's Rooks," a pastel painting by AB Word, Copyright 2000. Now in a private collection.
Order online from Amazon.com.
| | |
| --- | --- |
| Jack McDevitt | "Brilliant and passionate. Hard-edged, glittering rides through the dark." |
| Kara Dalkey | "Mary Soon Lee invokes her characters with such humanity, no matter how fantastical their circumstances, that they seem to effortlessly come to life. Her lovely, lyrical prose is likely to make readers feel they have been dropped into a dream from another world — a world potentially as real as our own." |
| Jim Lee, Scavenger's Newsletter | "… fiction at once fantastic and utterly believable–written with conviction and a steady, subtle hand. Love, sacrifice, betrayal, pain, regret and redemption figure strongly in her universe. Regardless of any supernatural or speculative trappings, Lee's best work is absolutely true in the deepest emotional sense and so many of these strike me as Lee at her best that it's impossible to pick a single favorite–or even 3 or 4." (Excerpt from The Skeptic Tank #81, Scavenger's Newsletter #215, January 2002.) |
| Don D'Ammassa, SF Chronicle | "The first collection of Mary Soon Lee short stories is a formidable little book. Far and away my favorite is 'Cause and Consequence' in which an admirer of Jane Austen travels back to visit her during her youth, becomes romantically involved, and nearly destroys her career. The other stories, predominantly fantasy, cover a wide variety of subjects including witchcraft, a very peculiar mailbox, heroic adventures, ghosts of various kinds, a talking box, a retelling of the story of the Pied Piper of Hamelin, a puppet who believes itself to be alive, and other things. Her stories tend to be quite short–there are twenty of them here in less than one hundred and fifty pages–but they almost always carry a punch out of proportion to their size. This one's worth your time and hard earned money." (From Critical Mass: Book Reviews, Science Fiction Chronicle #221, February 2002; this review appears by kind permission of Don D'Ammassa.) |
| Jay Lake, Tangent Online | "She also brings a powerful sense of lyrical prose, often drawing on the tropes and language of fantasy and fairy tale to make points about women, power and regret …. I enjoyed this collection, and enjoyed learning more about an author with whom I was too little familiar." |
| Jennifer A. Hall, Locus | "Lee has a knack for imparting much information and stirring emotion in a short space…. Hers is an incisive, gentle voice providing insight into the hearts of the characters she has brought to life." (From a review by Jennifer A. Hall in Locus #493, February 2002) |
| Trent Walters, SF Site | "With her majestic powers of character conjuration, this reader fully expects Mary Soon Lee to populate worlds every bit as popular if not more popular than Anne McCaffery or Robert Jordan — all the taste without the fattening calories (glory be to writers who can economize) — casting a motley crew of characters readers can care about." (Read the complete review from SF Site.) |
| Vera Nazarian | "Mary Soon Lee knows how to write intense human stories in the trappings of fantasy and science fiction." |
| Shoshana Kaminsky, Sigma, March 2002 | "(Full disclosure: Mary is a good friend of mine. So now you know.) I loved reading this book…. The characters are real, the settings are believable, and the plots are well-crafted." |
| Terri Windling, Year's Best Fantasy & Horror #15, August 2002 | "… an interesting mix of genre stories…" |
| Ellen Datlow, Year's Best Fantasy & Horror #15, August 2002 | "… a good introduction to the author's work. Several of the twenty stories of science fiction, fantasy, and horror appear in this debut collection for the first time…" |
| Paul Di Filippo, Asimov's Science Fiction | "Lee writes with disarming simplicity yet manages to capture complex emotions within her compact stories … a story such as "Conversation Pieces," where a woman is plagued by the vociferous demands of her common possessions, bears the hallmarks of only one person, the accomplished Mary Soon Lee." (From a review by Paul Di Filippo in Asimov's Science Fiction, December 2002.) |
| Paula Guran, www.darkecho.com | "Lee's primarily fantasy stories are brief, but written with clean lyrical prose, immaculate structure, and offer gentle insights into humanity." ( Read the full review at DarkEcho.com) |
| | |
| --- | --- |
| Monstrosity | The cover story of F&SF, August 1997 |
| Cause and Consequence | A man travels back in time to meet Jane Austen – Winner of the Best of Soft SF award. |
| Winter Shadows | Anna confronts her past after an old boyfriend dies…. |
| Vigil | War is coming: Branwen must settle the souls of the dead soldiers. |
| Mail-a-Day | Mail every day? Is that the answer to a woman's loneliness? |
| The Three Kingdoms | Sir Alaric's quest to find a bride – Received an Honorable Mention in the Year's Best Fantasy & Horror #12. |
| Roadside Stop | "Bill left home on a Tuesday night in the pouring rain…" – Received an Honorable Mention in the Year's Best Fantasy & Horror #12. |
| The Hollow Dancer | The night before the battle, Hellia had to dance with the enemy. |
| Conversation Pieces | Maybe you talk to objects sometimes, but what if they answered back? |
| Spell Night | First time in print – My only cat story to date. |
| Seeing Deeper | A hard birth, and harder days after. |
| Homecoming | First time in print – "Owain returned home like one of the heroes he had dreamed of as a boy…" – Reprinted in the Best of the Rest 3: The Best Unknown SF and Fantasy of 2001 |
| Gift | My first published story. |
| Not Another Unicorn | A witch is infuriated by her customers' demands for exotic creatures. |
| The Winter of the Rats | First time in print – A retelling of "The Pied Piper of Hamelin" – Received an Honorable Mention in The Year's Best Fantasy & Horror #15 |
| Heron | "Heron arrived at the Goddess's temple when she was seven years old…" – Received an Honorable Mention in the Year's Best Fantasy & Horror #12. |
| Puppetta | A wooden figurine half-remembers a time before she danced at a magician's command. |
| The Fall of the Kingdom | An old, old story revisited – Received an Honorable Mention in The Year's Best Fantasy & Horror #15. |
| Dragonslayer | A girl glimpses glory when a dragonslayer comes to her village. |
| City of Mercy | First time in print – In a city inhabited by murderers, Ismet chooses her destiny – Received an Honorable Mention in The Year's Best Fantasy & Horror #15. |